About Us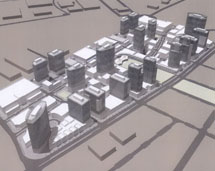 Greenfield Development Corporation, or Greenfield for brevity, has become a moving force in the real estate industry, owing to its long history in real estate development, ranging from infrastructure, residential, industrial and recreational projects.

Incorporated in 1961, Greenfield began as a landholding company, with vast tracts of land in its portfolio. Thousands of hectares in various strategic areas, from the north as far as Bataan and to the south up to Calamba, allowed Greenfield to emerge as one of the leading developers in the country today.

With more than 11-hectares of prime commercial property in Mandaluyong situated within the 110-hectare industrial quadrangle, Greenfield's modest beginnings at commercial development began with what was then known as EDSA Crossing. Developed in the early 1970's as a mixed-use commercial complex with a wet and dry goods market, the old EDSA Central quickly established itself as an accessible hub for various kinds of commerce. In 1998, Greenfield ventured into another commercial center in the growth center of Santa Rosa with the development of Paseo Commercial Center. Dubbed as the outlet mall of the south, Paseo provides a lifestyle center alternative to the regular boxed up malls.

Greenfield also delved into residential developments, with Hillsborough Subdivision Muntinlupa City in 1988, Southwoods Residences, Carmona in 1994, Lexington Garden Village, Pasig City opened in 1997, San Antonio Heights and San Rafael Estates in Sto. Tomas, Batangas in 1998, and the 600-hectare Maunong property now known as Ayala Greenfield Estates developed in the year 1999. In 2004, it launched the now completed 40-storey Soho Central Condominium with the Century Properties and Meridien Group. Its latest offering in 2007, the Pramana Residential Park sought to reinvent suburban living by devoting over half of the community to parks & playgrounds, wide open spaces and tree-lined roads.

Leisure developments as a natural adjunct to any high-end residential development was also a segment that Greenfield entered into. Starting with its Manila Southwoods Golf and Country Club showcasing a 36-hole world class championship golf course designed by Jack Nicklaus in 1989, then subsequently, partnering with the Ayala Land, Inc. for the Ayala Greenfield Golf Leisure Club in Ayala Greenfield Estates in 2005.

Greenfield has always endeavored to create value for its developments, and it ensured that its properties were unlocked via major infrastructure development and interchanges. With its vast landholdings in the south, it initially opened the Mamplasan exit in 1991, Cabuyao exit in 1992, Southwoods exit in 1994 and the ABI-Greenfield interchange in 2006.

Greenfield, in its efforts to provide complete community developments, also provided a venue for the work force to thrive. In 1998, it developed the Greenfield Auto Park (GAP), the catalyst for the development of the 300-hectare mixed-use Greenfield City Development. The GAP is a special industrial estate covering 65 hectares, which caters to light industries and auto-related manufacturing companies. It enjoys PEZA privileges and incentives and is now the home of Ford Motors in the Philippines. In addition, the Santa Rosa Business Park opened in 2004 offered choice lots for corporate headquarters, hotels, business schools and institutions.

As Greenfield continues to grow and develop its landholdings, one thing is certain-- that quality and innovation is always a main consideration. As a company, it is committed to providing world class Philippine communities to its customers whether in its residential, retail, office or industrial developments.